InterGest is a globally operating trust company.
Our objective is to assist you in your export activities and to support you with all administrative processes in the respective target country. InterGest assumes responsibility in the form of Business Process Outsourcing (BPO) for all your administrative activities, starting with the formation formalities and domiciliation of a foreign branch office or subsidiary through to the fiduciary management of daily administrative tasks.
InterGest can deal with everything apart from your sales activities and technology.
​
History InterGest Switzerland
---
InterGest Switzerland Ltd. was formed in 2001 to assist foreign companies in establishing and developing their business activities in Switzerland. Messrs Alfred Wagner and Oskar Freimann are the Managing Directors of the InterGest Switzerland Ltd. Mr Alfred Wagner is Certified auditor and Certified expert in bookkeeping and controlling. In 1985 he startet his own business as bookkeeper, auditor as well as tax consultant and in 1989 he changed his private firm into a stock company (WAGNER & PARTNER AG). Mr Oskar Freimann is a trustee with Swiss federal attestation. Since 1985 he has worked as a bookkeeper, auditor and tax consultant.
The InterGest Switzerland Ltd. office is located in Rotkreuz (district of Risch, Canton of Zug). The Canton of Zug is situated in the heart of Switzerland and Europe. This makes it ideal for the treatment of the Swiss market as well as for international trading and financial activities. The economic centre of Zug can attribute its preferential position to a large number of economic, fiscal, social, cultural and political factors.
InterGest Switzerland celebrates 20 years! Our InterGest partner Oskar Freimann and his team celebrate 20 years of InterGest Schweiz AG. On this occasion, a small celebration was held in June 2020 in the Swiss office and our CEO Prof. Peter Anterist congratulated the team. Oskar Freimann said: " We are trying to do something for the worldwide organization from the small country of Switzerland and we greatly appreciate the cooperation with all the people in Sarreguemines, the headquarter of the InterGest group, and all other InterGest partners."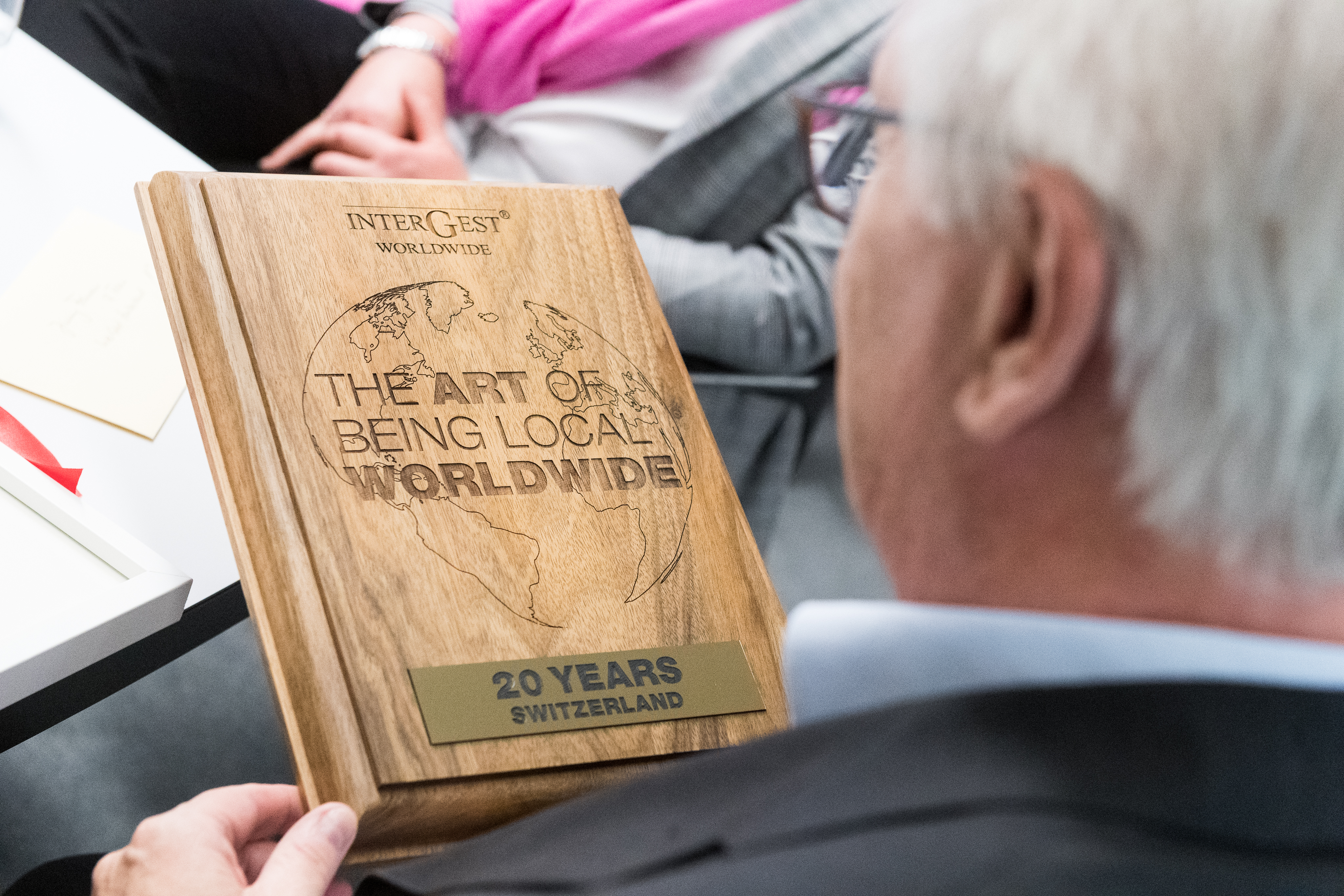 We are happy about the successful years and are looking forward to many more!
---
Certification InterGest Switzerland
---
The first certification was carried out on 11/09/2006 and the Re-Certification audits occurred on 12/07/2009, 11/28/2012 and on 11/16/2015. We have successfully concluded the renewed Re-certification audit as one of the first services company in the "trust" under the latest requirements of the ISO standards 9001 : 2015. The certificate therefore was extended again until the end of 2018. With this completed Re-certification audit, by the certification body Swiss TS Technical Services AG, we have provided proof, that our quality management fulfils the new ISO standards 9001: 2015 as well as ISO 10002: 2004 about the customer satisfation and the FEE® method (management system fractal. efficient. simple.) This new standard will be implemented only since October 2015 worldwide. It is available to us a comprehensive system which helps with lasting effect to fulfil the requirements of the customers in technical and human regard. The observance of the decisive laws and the beloning to it, official implementation regulations and instructions as well as the the attention of the directives of the associations are natural for us. We exert ourselves for an ethnic execution of operations, for the protection of the environment and the economical use of resources. First certification 09.11.2006 (on both photos) Ulrich Britt (Dipl. Ing. ITS Managementberater / F.E.E. Consult AG), Alfred Wagner (Geschäftsführer), Oskar Freimann (Partner), Thomas E. Meier (Lead Auditor / Swiss TS Technical Services AG)
---
The Idea (international)
---
The InterGest organisation offers an up-to-date, cost-effective and efficient method for developing foreign markets through directly controlled overseas subsidiaries.
The services and systems provided by InterGest are designed to assist the exporting company in developing an effective and efficient method for the establishment and administration of a foreign branch or subsidiary. InterGest takes the lead in coordinating all
legal
fiscal
monetary
customs and foreign exchange
transport, storage and operational management
transactions in the field of international goods and services.
Thanks to state-of-the-art IT technology, worldwide management and control of foreign subsidiaries via the Internet is available at minimum cost. This applies to B2C as well as B2B companies. Thanks to the InterGest concept, foreign suppliers become local suppliers. Their business becomes local.
---
The Strategy (international)
---
Aspects of Export
The advancing development of international cooperation and exporting is making economic activity increasingly complicated. Business transactions not only need to be seen from a commercial point of view; it is also necessary to take technical, legal, fiscal and human factors into consideration. Fairplay in Export
The provisions of the OECD Model Agreement (especially Section 5), for example, have made it quite difficult for a company to set up a sales organization in a foreign country without at the same time establishing a place of business there. Go local
Since, however, the administrative requirements for setting up a place of business are more or less the same as for a foreign branch, it makes sense in this case to opt for setting up a legally independent branch from the outset. General import
You of course have the option of developing the market with the help of a general importer.
What may at first glance appear to be a simple solution, however, as a rule turns out to be risky and expensive. Risky, because the entire risk lies with one person or organisation (the importer is your only customer in that country). Expensive, because to market your product the importer has to calculate margins, which, in competition with other suppliers, makes your product less attractive. Your own subsidiary
After considering the alternatives and weighing up all the arguments, there is really only one viable possibility for developing foreign markets: a wholly-owned sales subsidiary.
Organise your export activities with your own means, present yourself to your customers as a local business and sell your products under your own corporate identity. What was and is the right approach in your country of origin applies in equal measure to the foreign markets you are aiming to develop. We will support you with all our expertise.
---
The Aim (international)
---
Offer locally
Your company's goal must be to establish an image and offer your services in every country to which you export in the same way as your local competitors, for – given the opportunity – customers will want to buy locally.
If foreign suppliers want to be competitive with regard to local suppliers, they need to be present in the market with a local organisation. Full support by InterGest
The InterGest organisation can provide you in individual export markets with all the necessary administrative infrastructure and associated services. This allows you to manage and control your foreign sales subsidiary from your home base at minimum cost. Tailored to different countries and variations
The services offered by InterGest vary from country to country because they must be adapted to the specific legal, fiscal, customs and transport systems operating in the particular country, as well as to conditions with respect to mentality and language. Professional codes of ethics also frequently play a role in this context.
We assure that through a single business correspondent – InterGest – you are provided with all the information and services necessary for developing the market and managing your foreign subsidiary or branch.
You will find the specific details of services provided by the InterGest partners under intergest.com
---
---